Socorro
Socorro - 2/20/2020
Level of Diving
Diving will be in warm water off of a liveaboard dive boat. Water temperatures are mid to high 70F. Minimum 3mm wetsuit is required, however a 5mm is recommended. Most dive sites are suited for intermediate to advanced level divers. Proof of a minimum of 25 logged open water dives in the past 24 months is required.
Destinations
The Socorro Islands is located west of Cabo San Lucas, Mexico, approximately 24 hour boat ride from shore. The islands that you will be diving include Socorro, Roca Partida, and San Benedicto.
Socorro Island is a small volcanic island in the Revillagigedo Islands, a Mexican possession lying some 600 km off the country's western coast. It is the largest of the four islands of the Revillagigedo Archipelago.
The giant Pacific mantas which you will meet at Socorro are the largest of the rays and we believe they are the most majestic creatures in the ocean. They swim by moving their wing-like pectoral fins, which can grow up to 7 meters wide, but usually average about 5 – 6 meters. At Socorro, these giants choose to interact with divers! They come in very close – less than 1 meter! – make eye contact with you and then swim along beside you – totally on their terms.
What is even more extraordinary is that the local population of bottlenose dolphins have learned to mimic the behaviour of the giant mantas. It is very likely that these wild dolphins will also move in close and intimate to divers during your trip.
Shark sightings are also very good at Socorro Island with common sightings of silky, galapagos, hammerhead, white tip and silver tip sharks. Schooling hammerhead sharks may be seen at any time but the best chance to see large schools up close is April – June.
A population of 1200 humpbacks moves into the island's waters in January and chances are excellent that you will have encounters with these mighty giants. You may even hear them singing through the hull of the ship at night as you lie in your bunk.
Nautilus Under Sea
The Nautilus Under Sea is the newest addition to the Nautilus family. She has just undergone a massive refit & renovation including the addition of a premium suite on the upper deck, the installation of a new stability system, a bulbous bow, plus an upper deck lounge, bar & hot-tub. Also, she has a new full-width superstructure with dining room, lounge, galley and a giant quad stateroom has been added on the main deck.
Socorro diving operations will be slightly different on this boat than on the other Nautilus vessels. Under Sea will be using a brand-new custom-built 32-foot triple outboard powered 50 mph dive sled modelled on the dive skiff Inde which was used in the Pacific Northwest.
Other interesting facts about the Nautilus Under Sea:
~ 95' x 24' ocean-going dive boat
~ Steel with teak deck
~ Engines: Twin Caterpillar 240 HP
~ Tenders: One 25ft. heavy duty fiberglass dive boat. One 32 ft. custom high speed aluminum dive skiff.
~ Generators: Two 65kW + 1 emergency genset
~ Voltage: 110/208 VAC 12-24 VDC
~ ISM safety certified audited by Bureau Veritas, VSAT, Satelite Phone
~ Compressors: 2 x water cooled Coltri MC-30
~ Full oxygen, nitrox and rebreather service
~ 19 guests, six staterooms, one quad stateroom, one premium cabin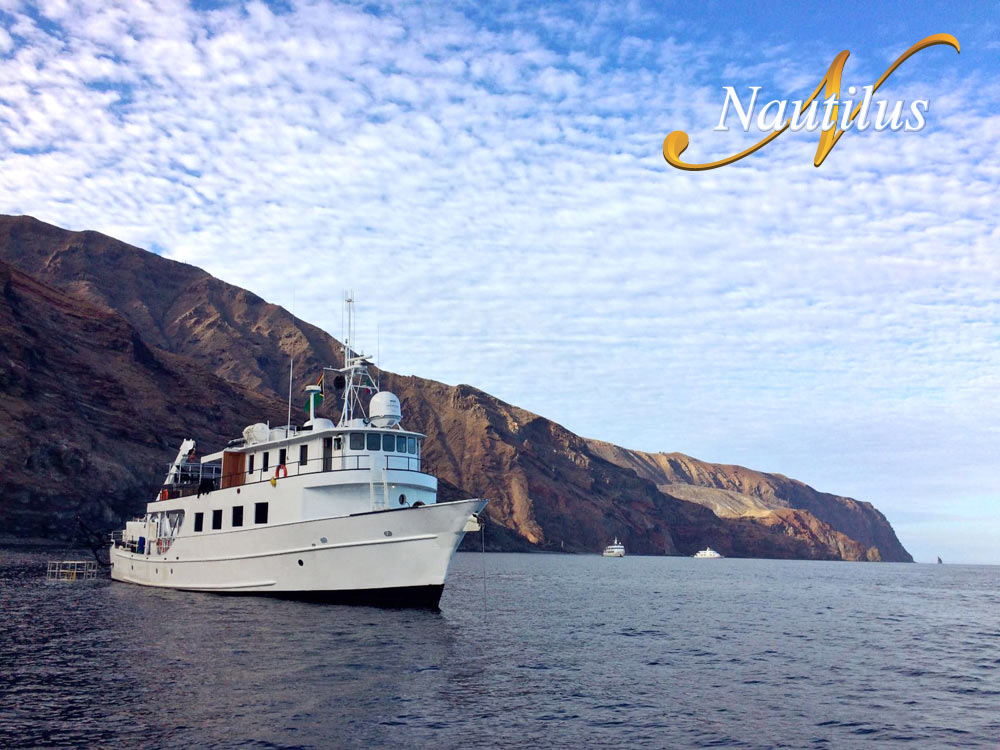 Trip Information
February 20-28, 2020
Nautilus Under Sea is a liveaboard dive boat. Eat, sleep, and dive your fins off!

Package Includes:
Diving, aluminum 80 tanks, weight belts
In-water divemastering and guiding by experts
Housekeeping service and nightly turndown service
Towels
Snacks, meals, non-alcoholic beverages

Package Does Not Include:
Airfare or booking of flights
Airport transfers
Excess luggage fees
Port Fee USD$65 per person (cash only)
Travel/dive insurance
Scuba gear rentals
Nitrox, argon, mixed gases, steel tanks
Crew gratuities
Gift shop purchases

Prices - All prices are per person. All prices are in US dollars. All trip payments/deposits must be made in US dollars.



| | |
| --- | --- |
| Staterooms | |
| Double Occupancy (14 spots) | USD$3699 |
| Triple Occupancy (3 spots) | USD$3249 |
Booking Policy
A non-refundable deposit is due at the time of booking. Your spot will be confirmed only once the deposit has been received. A refund will be issued only if your spot is re-sold to someone else, administrative charges may apply. For spots canceled and not resold, refund amount will depend on amount available based on the supplier's cancelation policies.

All prices listed are in US Dollars.
Payment Schedule:
Book your spot by January 31, 2018 and your CDN$500 deposit will count as USD$500
$500 Deposit at time of booking
$1000 due by August 1, 2018
$800 due by February 1, 2019
$800 due by August 1, 2019
Balance due by November 1, 2019
Prices listed are per person. All amounts are in US Dollars. Payments may be made online on our website or with US Cash/Money Order.
Important Links
There are no products listed under this category.