Video Nights
For the latest info on Video nights or events check our Facebook page or Instagram
Looking for some underwater fun during the winter? Join us for our monthly video night featuring a variety of interesting diving related topics including past dive trips, desirable diving destinations, specialty type diving like caves, wrecks, deep, as well as fun videos. Enjoy comfortable seating in our large classroom with large screen projector. We'll start off with some fun underwater bingo or trivia to kick things off!
It's free to attend but please bring a donation for the Veteran's Food Bank (food or cash), we will be matching all the cash donations! All divers and non-divers are welcome to attend.
Food is available at 6:00pm and the presentation will start at 6:150pm.
Please RSVP if you will be attending.
Cuba - Jardines de la Reina (Gardens of the Queen)

Wednesday, December 7, 2022

Jardines de la Reina was declared a Marine Park in 1996. Together with the Cuban Sciences and Environment Ministry, this area has been preserved for future generations as a complex network of untouched marine ecosystems.

It has been regarded by many knowledgeable scientists and organizations as a reference of what is the original status of a coral reef; as it was found by Christopher Columbus in the times of the discovery.

Interested in traveling to Cuba for some amazing diving? We are looking at putting together a trip for 2023 or 2024 so let us know!

Bonaire & the Caribbean

Wednesday, January 11, 2023

The Caribbean is a popular place for scuba diving and snorkeling. It's fairly easy for Canadians to get to for a week or two of underwater adventure. Bonaire has become one of our favorite places to visit with some of the best snorkeling and scuba diving the Caribbean has to offer.

Join us for an evening exploring Bonaire and other popular Caribbean destinations!

Interested in diving Bonaire? We will be putting together a group trip for October/November 2023 and will have some information available this evening. If you're unable to make it, email us if you're interested in more information.
Topic: The Best of TDO

Wednesday, February 8, 2023

The Dive Outfitters 20th Anniversary. The store is officially turning 20 years old and we will be celebrating with the best of dive trips and trivia. Come by and reminisce about all our dive adventures from the last 20 years. We'll be showing some fun videos that will be a blast from the past!
Note: Due to crazy work schedules, presenters and presentation topics may change on short notice. We have a few backup plans so the topic will always be interesting!
Special Guest Presenter, Mike Lever of Nautilus Explorer talks about diving with great white sharks in Guadalupe and manta rays in Socorro Islands....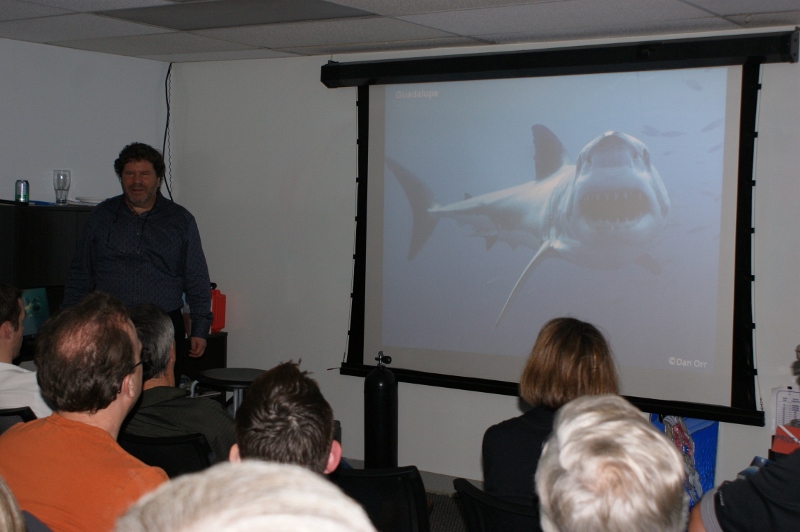 Guest Presenter, Stuart talks about diving in Roatan.....